This is a step by step guide to do NBPDCL quick bill payment online using North Bihar power official website – www.nbpdcl.co.in without registering or logging in.
North Bihar Power Distribution Company Limited (NBPDCL) is undertaken by the Bihar government is one of the major electricity providers in Bihar state. NBPDCL covers 21 districts in northern Bihar, providing electricity to 1.8 million consumers. A quick bill payment facility is available for every consumer of NBPDCL.
NBPDCL Online Bill Payment | NBPDCL Quick Bill Payment
For a quick bill payment, the NBPDCL consumer number is the only necessary thing. There is no need to register on the NBPDCL website for doing NBPDCL online bill payment. The facility to Search your consumer number with old consumer ID is also available on the NBPDCL website.
Click Here to visit the NBPDCL bijli bill quick payment page.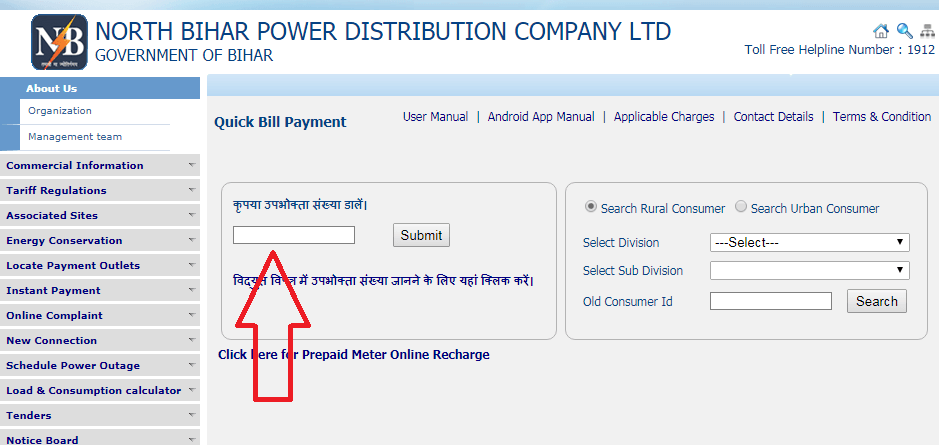 In NBPDCL online bill payment page, fill up your consumer number, and click Submit.
Some more details will be displayed below. You can view your outstanding amount and due date there. If you want to continue with NBPDCL bijli bill payment, type your e-mail id and your mobile number, select one payment gateway from listed three and click Confirm Payment. There will be no service charges if you select PayU or HDFC as a payment gateway.
To continue with NBPDCL bijli bill payment, pop up windows for the NBPDCL website should be enabled in your browser. For instructions to enable pop-ups, click HERE
Next is a confirmation screen, you can verify your details there. If you are planning to go further with NBPDCL online bill payment, click Pay Now.
You will be redirected to the website of the payment gateway you have selected earlier. You can use your credit card/debit card/internet banking/online wallets for NBPDCL online bill payment. After selecting your payment mode, complete the transaction carefully. If the transaction is successful you will be redirected back to NBPDCL website with a success message and a payment confirmation will be delivered to your mobile number and e-mail also.
NBPDCL Online Quick Bill Payment – NBPDCL Online Bill Payment without registration