India Power Corporation Ltd. (IPCL), is one of the leading power generation and utility companies in India. They work as an electricity distribution franchisee in Gaya, Bihar. Consumers of India Power can pay their electricity bills online through their website. You can make IndiaPower online bill payment without doing any registration process on the India power website. You can do IPCL online bill payment using third party websites like Paytm also.
IndiaPower Online Bill Payment – IPCL Quick Pay without registration
Follow the Below Link to visit the Quick Bill Payment page of the IndiaPower website.
Visit online bill payment page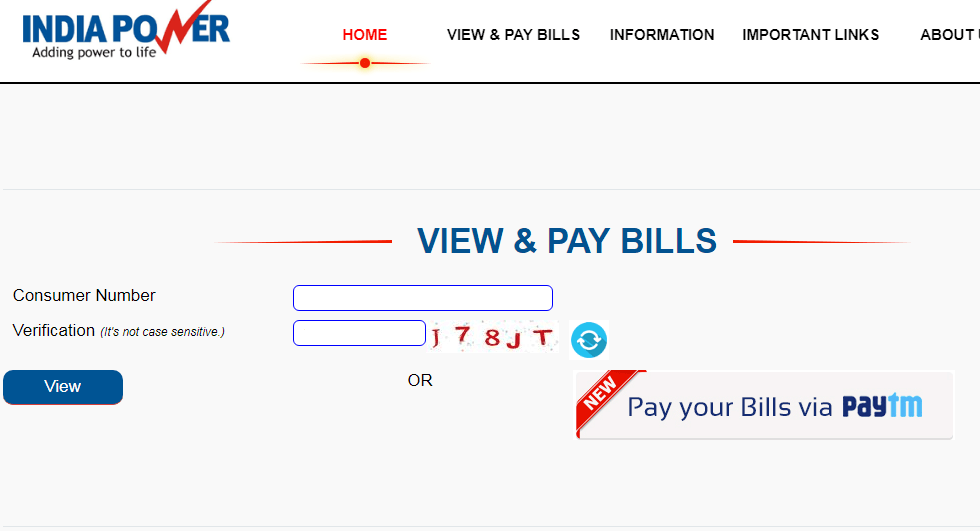 For making IPCL Gaya online bill payment, fill up your IndiaPower consumer number and verification code shown in an image and click View. If you don't remember your IndiaPower consumer number, refer one of your previous printed bills of IPCL. Your consumer number will be there.
If you want to make IndiaPower online bill payment through Paytm, click Pay your bills via Paytm.
List of your bills of last few months with bill month, amount and bill date will be displayed. To continue with the payment, click Pay Bill on top.
A pop-up window with your bill number, bill due date, and the outstanding amount will be displayed. Fill up your e-mail id and mobile number in that pop-up window.
Check  I agree the terms and conditions checkbox and click Pay.
You will be redirected to the payment gateway page.
Available payment modes for IPCL Gaya online bill payment are,
Credit Card
Debit Card
Internet Banking
Wallet/Cash Cards
Select one of the payment modes, fill up the details, and click Make Payment.
You will be redirected to your Bank/Credit Card website, fill up the details there, and complete the transaction carefully. After completing the transaction, you will get notifications in the e-mail and mobile number you've filled up earlier.
IndiaPower HelpDesk
For any kind of support regarding bill payment, you can contact IndiaPower Helpdesk in the following phone number.
Helpdesk Number: 0631-2210214
IndiaPower Gaya Bihar Online Bill Payment – Quick Bill Payment Without Registration and Login